Re: Terminus Machina - A DX Mod
Trying to go through a more serious examination of the gameplay, and in particular skills as they affect gameplay. I'm planning on revamping much of the skill list to bring in new game dynamics and also to give things an image makeover more in theme with the TM mod. Many of these skills will be similar to existing skills but with additional modifiers -- Hotwiring is basically electronics except rather than just multitooling keypads you can also siphon electricity and wire up your own portable solar systems and other useful things.
If anyone has any ideas/suggestions, I'm open. I'm still very much in a nebulous brainstorming phase with this.
Computer Hacking
The deciphering of codes, breaking of passwords, intrusion into and manipulation of secure systems.
Hot Wiring
Increases energy siphoning speed and decreases likelihood of dangerous accidents. Reduces the number of Multitool required for any non-computer-skill-aided hack.
Bio Hacking
Ability to physiologically modify oneself and others using gene-splicing, genetic modification, and surgical insertions
Improvised Explosive Devices
Building IEDs from household chemicals and undetonated munitions. Increases effectiveness as well.
Weapons: Projectile
Increases weapon damage, accuracy, and reduces reloading time. Also affects proficiency with cameras (i.e. Sousveiller).
Weapons: Hand-2-Hand
Increases weapon damage, accuracy, and reduces reloading time.
Social Engineering
Your ability to convince others that you are right, to lie, and to impersonate others. Affects facial/vocal identity masking, social engineering hacks.
Mechanical Tinkering
Your ability to build, repair, and manipulate mechanical devices. Affects (Considering merging this one with lockpicking -- locks are mechanical devices) Description: "Dissecting, inventing, repairing and reverse-engineering mechanical devices.
UNTRAINED: A hacktivist breaks any mechanism they attempt to fix.
TRAINED: A hacktivist can take apart and repair radios and simple weapons such as handguns.
ADVANCED: A hacktivist can fix cars and build moderately advanced devices (such as EMP rifles) using schematics
MASTER: A hacktivist invents flying, cold-fusion powered cars in his/her sleep.
Lock Picking
Reduces the number of lockpicks required when Lockpicking.
Nature Punk
Your knowledge and expertise with plants and animals. Natural remedies, growing of food, and ability to lull animals.
Medicine
Increases the amount of damage healed by your Medkit.
The "weapons" categories have also been simplified as straight-up combat will be even less central in Terminus Machina seeing as your character is much more underpowered compared to your foes. The "projectile weapon" skill will also affect your ability with cameras (needed for capturing digital face-overlay disguises). Your melee skill will have a much bigger impact than in DX. If you invest nothing in "hand-2-hand" your knives will often break, you will tend to drop your baseball bats mid-swing, and damage will be greatly reduced.
There will be very few "complete" useful items just laying around the game -- you *are* living in a crumbling necropolis, after all. No AK47 in the mailbox and shotgun shells in random boxes lying around. The DIY "Finding new uses for things" will be essential here, and I'm currently working on getting a diverse crafting system up and running. If you want a crossbow you'd better go find some old tire rubber and metal parts and invest in that Mechanical Tinkering skill. No energy? Grab some solar panels off of that old broken down street-cleaner bot, some copper wire from that junked Audi and sew up your solar coat. Need a lam to take care of that goddamned Nazi counterinsurgency android? Nab some liquid detergent and fertilizer from 711, read your Anarchist Cookbook and cook up some IEDs. Jerryrig a discarded smartphone to your bomb and use it as a remote detonator. Nails and wood pieces can be whittled into wicked crossbow bolts. If you've got your "Naturepunk" skill up you might even be able to sort out a poison to make those bolts even deadlier (or incapacitatier).
On another brief playthrough of Deus Ex, I realize the genius is in the plethora of possible solutions to any given challenge -- and the ability for the player to decide what does and does not constitute a challenge worth solving. I'm presently attempting to sort out how this can be further expanded upon. Ideally, in this game, not only will you feel as though you're solving the challenges your own way, you'll feel as though you're *inventing* the solutions right out of everyday pieces of trash on the street. I also want the game to be more difficult and sparse -- at no point should you be running around like an invisible two-legged F-16 blowing the crap out of everything in your way. This is one problem I had with DX, especially later in the game. You will always be underpowered as a underclass freedom fighter, but with enough ingenuity and endurance, you might just make it through.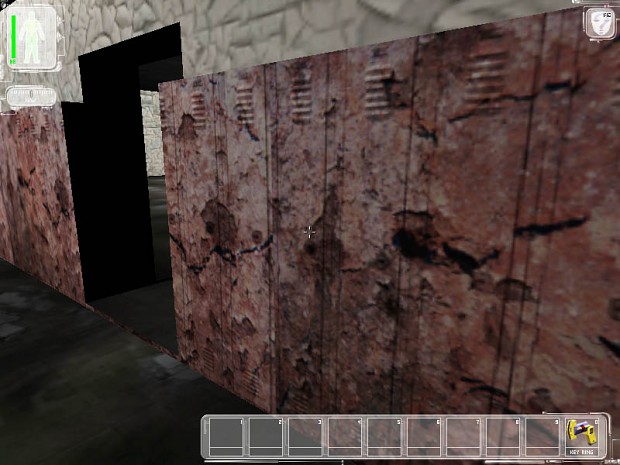 No bullets in them thar lockers, but maybe a pair of scissors!
Also put up the songs from the demo video on <a href=http://www.moddb.com/mods/terminus-machina/videos>the Moddb site</a>