ModDB has fired up a new promotion titled "Summer of Mods and Indies", and we're extremely excited about it!  The idea behind the promotion is to get the word out about the best mods from the first half of the year, mods that are often forgotten by the time their annual Mod of the Year contest rolls around.  While there are no prizes for SoMI, the publicity they're providing to participating mods is fantastic.
This week, The Nameless Mod will be featured, and we'll be showcasing some very exciting content.  They're starting off with a pimped out, whiz-bang version of our post mortem.  For those of you that have already read the post mortem, it's still worth checking out just for the eye candy; we provided them with a lot of previously unreleased images from development and I'm sure there'll be some interesting bits of eye candy in there! 
Of course, we don't want to just rehash old material, so we've spent the last couple of weeks putting together some juicy bits of TNM media that you'll be able to check out later in the week, so keep an eye on the promotion page, and be sure to check out some of the other mods as they go up!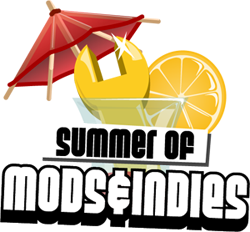 The Nameless Mod Behind-the-scenes, ModDB, Post-mortem, SoMI